New look, same product. International clients, get ready to experience a more modern and streamlined appearance with GlobalLink's recently renovated platform.
Here's a look at some of the fresh features. Click the thumbnails to enlarge.
Shipment Dashboard
Dig deeper into shipment details with this dashboard.

Entry View
Use the entry review to mark an entry as flagged or approved.
PO Manager
The PO Manager displays your data in graphs, which gives you a visual of your open loads and POs.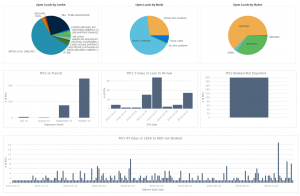 Standard Reports
Standard Reports gives you the option to export your data as a report or display it on screen.

Take a look at our GlobalLink 3.0 Help Guide for a more detailed view of the features offered. If you're interested in learning how to customize this further contact us at info@mohawkglobal.com.