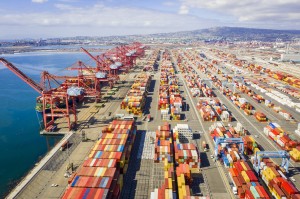 The Ports of Los Angeles and Long Beach terminals have been experiencing significant delays due to backlogs over the last month. These backlogs have intensified over the last week, causing additional delays.  This unusual period of congestion stems from many factors such as:
Holiday Schedule/Labor Shortages:  Longshoreman contractual no-work days for Christmas and New Year's and associated scheduled vacations contributed greatly to a labor shortage, exasperating the backlog.
Chassis Shortage: As terminals fill over capacity, containers are stored in areas outside of dedicated storage. Therefore, the empty containers returned by truckers have been refused by the terminal. Truckers have then been forced to fill their facilities with empty containers along with their chassis. This leads to a larger backlog in the entire logistics process.
The Tariff Build Up/Front-Loading: Carriers faced the front-load of holiday shipment based on the 10-percent tariff increase placed on China imports by the Trump administration. With the subsequent announcement of the 25-percent tariff increase by January 1, 2019, importers once again rushed Spring 2019 merchandise shipped under the tariff deadline.
Port Congestion Fees
Drayage carriers working in LA/Long Beach have stated the possibility of assessing Port Congestion Fees for each container they are tendered to recover. These fees have the potential of adding as much as $300+ per container having to recover from the port for the duration of the backlog.
Possible Demurrage Penalties
These delays place shippers at risk for demurrage penalties –fees charged when containers are held at terminals beyond the agreed upon time period. 
Estimated Backlog Clearance
With the tariff postponement of March 1, along with the traditional dip of imports in the season, the 12 terminal operators are estimating that the backlog will clear by February. While Mohawk has no control over this time estimation, we will continue to monitor the situation and advise of any significant changes.
Get Your Questions Answered
If you have concerns or questions about your current shipments, please reach out to your Mohawk Global Logistics representative.