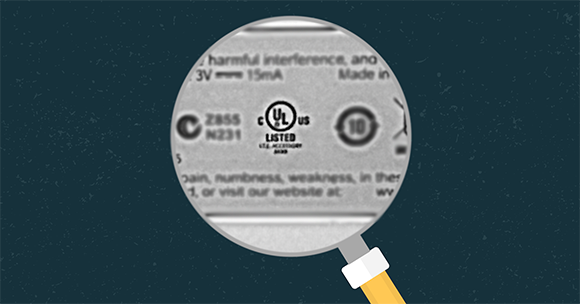 If you purchase and import products that bear the UL trademark, the onus is on you as the importer to ensure the supplier applied for and received UL certification for these products prior to import. With certification also comes the authorization, or license, to use the UL mark on said products. Importers bear all the risks here and must make this determination before these products reach U.S. borders.
The importance of this is highlighted here in a recent court case, ICCS USA v. United States. Briefly, ICCS USA imported products which were released to them by Customs and Border Protection (CBP). Subsequent to release, ICCS USA received a notice from CBP directing them to redeliver those products as they were UL marked but found not to be on the UL list of verified products. As one of their Priority Trade Issues (PTI), CBP enforces certification marks at our borders. Because ICCS USA was unable to redeliver the entire shipment, CBP assessed thousands of dollars in damages for those products not redelivered. ICCS USA challenged the notice in the Court of International Trade (CIT), which sided with CBP.
How Can Importers Be Sure?
Importers can gain assurance by working closely with all their suppliers to ensure products not only bear the UL mark, but also that the products are UL certified, giving the supplier authorization to use the mark. Importers can request a copy of the UL certificate from suppliers as proof. However, this is not enough. Importers must take additional steps to verify the authenticity of the certificate being provided since counterfeit markings and certificates are known to exist. It stands to reason that any products with unauthorized or counterfeit markings did not go through the rigorous testing standards followed by UL. As a result, the potential to expose consumers to dangerous, unsafe products can be high.
Also, it is important to note that UL certification for one product does not necessarily extend to other similar products that the supplier sells. Importers must ensure suppliers submit a certificate for each different product – no matter how similar they may be. Ensure the UL certificate is for the exact product being imported.
Underwriters Laboratories (UL) Markings and Why They're Important
According to its website, UL has been empowering trust dating back to 1894. Trust is the foundation of its business model.
UL is a global organization that operates independently, setting strict safety standards and ensuring products are safe from potential risk to consumers for personal injury. UL subjects products to rigorous testing and evaluations based on these strict safety standards. Products are not certified until they meet these established standards.
The primary focus of UL is rooted in connecting people around the globe to safer, more secure products. Consumers have come to rely on and trust in the safety and security of products that display the UL mark when they arrive at our seaports.
UL, Customs and Border Protection & Zero Tolerance
Importers bear all the risks. Not taking the proper steps to ensure compliance can be very problematic for importers and detrimental to their business. The highly regarded UL mark is synonymous with trust – the foundation of UL's very existence. UL protects this marking vigorously and has a zero-tolerance policy for its misuse – intentional or not.
It's important to keep in mind that other markings on the product are certifications as well. For example, Bluetooth, HDMI and Non-GMO to name a few. It's a good idea to verify all markings displayed.
Again, this is a PTI for CBP and, as such, they support and enforce UL's zero-tolerance policy as well.
Once products arrive in a U.S. port, and if they are subsequently deemed to have unauthorized UL marks, the products will be destroyed, and importers will not be reimbursed. Importers can also be fined and, worse yet, find themselves the subject of an unfavorable press release. We cannot stress it enough – Zero-Tolerance. Take adequate steps to ensure UL marks are approved and certified.
Steps to Take to Compliancy
The first step is for importers to work closely with their suppliers and ask them to provide a UL Certificate for the exact products they are importing. Keep in mind other markings on the products should have certifications as well.
The next – and most important – step for importers to take is to verify the certificate using a freely available, public tool.
To learn more about our import compliance services, contact Mohawk Global Trade Advisors.
By Yvonne Scott-Younis